Why Choose Advance CNC Machining Services?
At Advance CNC, serving customers is a privilege we don't take for granted.
Our team works hard to earn your trust by delivering quality and value in each project. If you're tired of unreliable manufacturing teams, you can rest easy knowing Advance CNC will produce high quality parts at a great value — every single time.
At Advance CNC Machining, it's our goal to provide you with high-quality parts you can depend on.
We only hire great people who commit to doing quality work and taking care of customers.
Robotic loaders and pallet systems allow for "lights out" production.
We serve many industries with our products, so we're accustomed to tight tolerances.
We have an incredibly high success rate with the products we deliver across all industries.
Advance CNC uses high speed, highly precise Makino 4-axis and 5-axis machining centers almost exclusively.
We invest in CMMs, optical scanning and optical imaging equipment that most shops don't have.
Our machinists are completely trained and know how to approach skillfully inspection, print reading, and job set ups.
We invest in precise automation to ensure repeatable quality 24 hours a day.
We believe in providing our customers with more than just a competitive price. And we believe in providing exceptional value in CNC Machining. Here are eight ways we back it up and offer more:
We have some of the fastest machining centers on the market. This means lower prices for you.
Expect shorter lead times because we run 24 hours a day.
We can be a one-stop source for machining and gears, secondary operations and assembly if you wish.
We can supply material certifications and certificates of conformance with any order at no charge.
We'll spread out shipments so you can keep inventories low.
We'll coordinate the freight; you don't have to.
For customers that qualify, we'll sell parts on consignment, virtually eliminating your inventory.
Because of our size, we get competitive material prices that we pass along.
Advance CNC Machining wants to be a manufacturing partner you can trust with all of your custom machining needs. Why you can count on us for reliable service:
Need to reduce expenses? Our CNC Machining Stocking Program will start saving you money today! Our convenient stocking program allows us to stock our customers' parts on our shelves to be shipped on their requested dates. Most of our customers require 50 – 50,000 of any single part number in a year. America's top manufacturing companies actively rely on Advance CNC Machining for their machined parts. For some, freight expense was a factor, so we offered them free freight. Now they can compare apples to apples when deciding on a machining partner.
With Advance CNC Machining's Stocking Program, you can:
Relax because delivery of your parts is no longer tied to production & machining lead times
How does it work? Simple.
We will customize a Stocking Program to meet your needs. Contact us for a free quote to start saving time and money today.
Our dedicated team specializes in supplying parts to equipment manufacturers.
To decrease lead times, our manufacturing facility is open 24 hours a day. We also have several CMMs and vision measuring machines, which allows us to ensure your quality standards.
We strongly believe in being incredibly reliable and easy to work with, from our quick response times for new CNC machining quotes to the way we ship your finished parts from our machine shop, and everything in between.
Our commitment to greatness comes from our fundamental core values:
Quality
Attitude
Reliability
Action
Quality
We only do work we're proud of.
Attitude
Reliability
Action
Want to learn more about Advance CNC? Follow us on social media.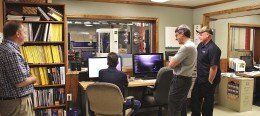 A few months ago, the team at Advance CNC Machining was honored to receive an invitation from Modern Machine Shop to be featured in an article regarding The Costs and Benefits of Horizontal Machining.We had the pleasure of meeting with Pete Zelinksi to share our expertise on the subject. During his time here we discussed our experience with transitioning to mostly horizontal machining centers and the benefits to not only us, but our customers.Some of the benefits discussed in the article include:
Shorter processing time per part
Lower Prices
Three-side machining
Ability to machine complex parts
Platform for advanced tooling
Serving multiple customers simultaneously
On-machine deburring
Maintaining a cleaner shop
You can read the full article in the July 2014 issue of Modern Machine Shop or read the full article by clicking here.We are truly honored to have been chosen by Modern Machine Shop to share our expertise on horizontal machining and efficiency improvements. If you are interested in getting a copy of the latest issue stop in and pick one up in our office or get in touch with us and we will mail you a copy.