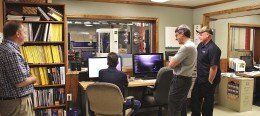 A few months ago, the team at Advance CNC Machining was honored to receive an invitation from Modern Machine Shop to be featured in an article regarding The Costs and Benefits of Horizontal Machining.We had the pleasure of meeting with Pete Zelinksi to share our expertise on the subject. During his time here we discussed our experience with transitioning to mostly horizontal machining centers and the benefits to not only us, but our customers.Some of the benefits discussed in the article include:
Shorter processing time per part
Lower Prices
Three-side machining
Ability to machine complex parts
Platform for advanced tooling
Serving multiple customers simultaneously
On-machine deburring
Maintaining a cleaner shop
You can read the full article in the July 2014 issue of Modern Machine Shop or read the full article by clicking here.We are truly honored to have been chosen by Modern Machine Shop to share our expertise on horizontal machining and efficiency improvements. If you are interested in getting a copy of the latest issue stop in and pick one up in our office or get in touch with us and we will mail you a copy.